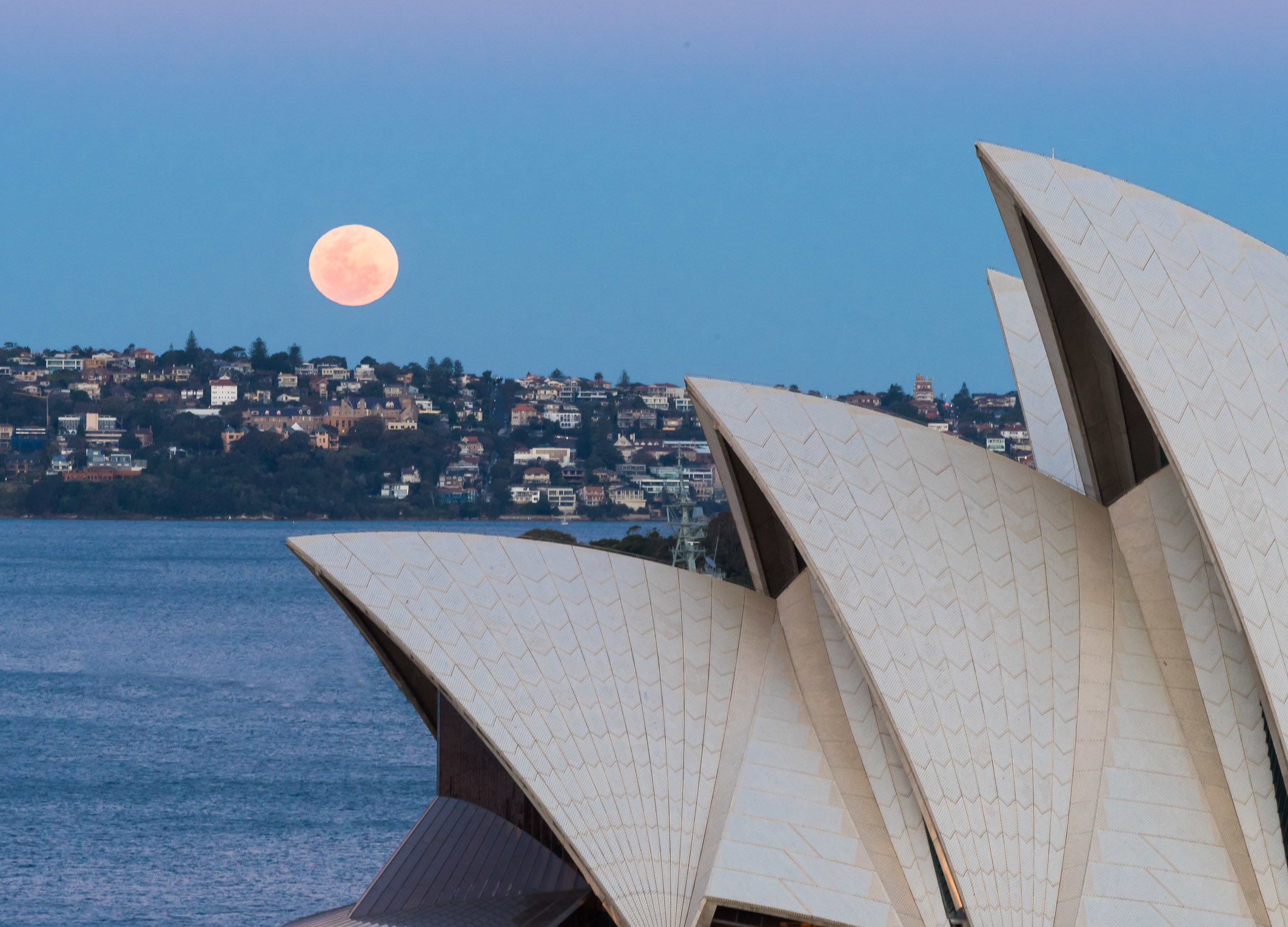 Photo Details
| | |
| --- | --- |
| Title: | Moonrise Over the Opera House, Sydney, Australia |
| Caption: | The full moon rises over the Sydney Opera House, as seen from the Harbour Bridge. |
| Taken: | 6 September, 2017 |
| Location: | |
| Camera: | NIKON D810 |
| Focal length: | 200mm |
| Shutter speed: | 1/13s |
| Aperture: | ƒ/16 |
| ISO: | 800 |
| Keywords: | au, australia, building, city, full moon, harbour, moon, new south wales, night, nsw, opera house, sky, sydney, sydney opera house, twilight, water |
When traveling with your camera, it often helps to know the phase of the moon. That said, if you're not a walking moon phase calendar, simply paying attention to your surroundings can be a good fallback. Such was the case for me one night before I took this photo when I happened to look out the windows of the Google office and see an almost full moon rising over downtown. I immediately opened PhotoPills, saw that the full moon was the next night, and began formulating a plan.
I knew that the famous Sydney Opera House was to the east of the Sydney Harbour Bridge, and that if I stood on the bridge I might be able to catch the moonrise over the Opera House. PhotoPills confirmed that this was possible, so I made plans to walk to the middle of the bridge and wait for the moonrise – giving myself extra time to explore the location and find a good shooting spot.
Of course, nothing ever quite works out to plan, and the moon ended up rising a few degrees north of where I had anticipated. I scrambled and ran south down the bridge to find an angle where I could catch the Opera House on a line to the moon, and managed to catch this photo right as the moon had risen above the city on the eastern harbor shore.
A few things to remember for next time:
Bring a warmer jacket. Sydney was warm during the day; but the temperature dropped around sunset, and the winds on the bridge were sharp and cold.
The moon rises in the northeast in the southern hemisphere. I kept looking more towards the south like an idiot who spends most of the time in the northern hemisphere.
There are lots of fences on the Harbour Bridge, and finding a large opening to shoot photos through can be tough. Narrow diameter lenses are key, but fortunately my 70-200 worked perfectly.