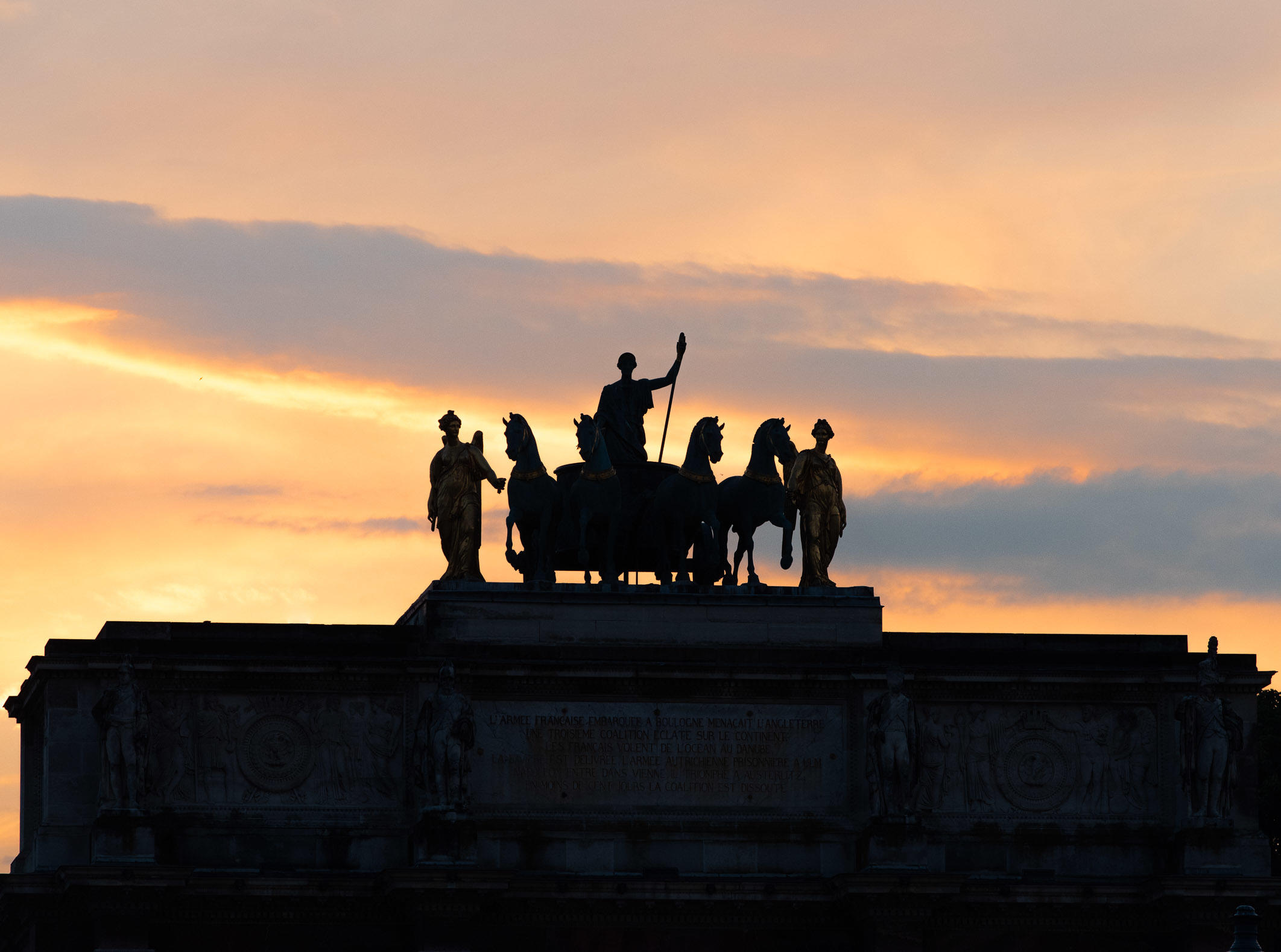 Photo Details
| | |
| --- | --- |
| Title: | Statue on the Arc de Triomphe du Carrousel, Paris, France |
| Caption: | The sun sets behind the goddess of Peace as she rides in on her chariot surrounded by Victories on the top of the Arc de Triomphe du Carrousel. |
| Taken: | 22 May, 2018 |
| Location: | |
| Camera: | NIKON D810 |
| Focal length: | 200mm |
| Shutter speed: | 1/320s |
| Aperture: | ƒ/8 |
| ISO: | 800 |
I previously posted my photo of the Arc de Triomphe du Carrousel from my trip to Paris last May, and I loved the combination of the arc and the crazy sunset behind it. After an earlier rainstorm, the clearing clouds provided a gorgeous canvas for a sunset of bright colors. I had already taken several photos of the arc as a whole (my previous post), and I was looking for another photo that made good use of the light and color in the sky.
My first instinct was to go back to the Louvre and shoot to the west, but I ended up not liking any angles on the statues or sculptures in front of the building – especially with so many tourists around. Only when I turned around did I realize there was yet another photo of the arc – this time of the statue on top. I swapped to my telephoto lens and shot this photo looking back across Place du Carrousel towards the arc, catching the goddess of Peace on her chariot surrounded by Victories against the orange sky and the setting sun.
Sunsets are dynamic times, and the light can change rapidly revealing new perspectives on the same subject. I'm glad I remembered to look around and not to give up on a subject I had already captured.