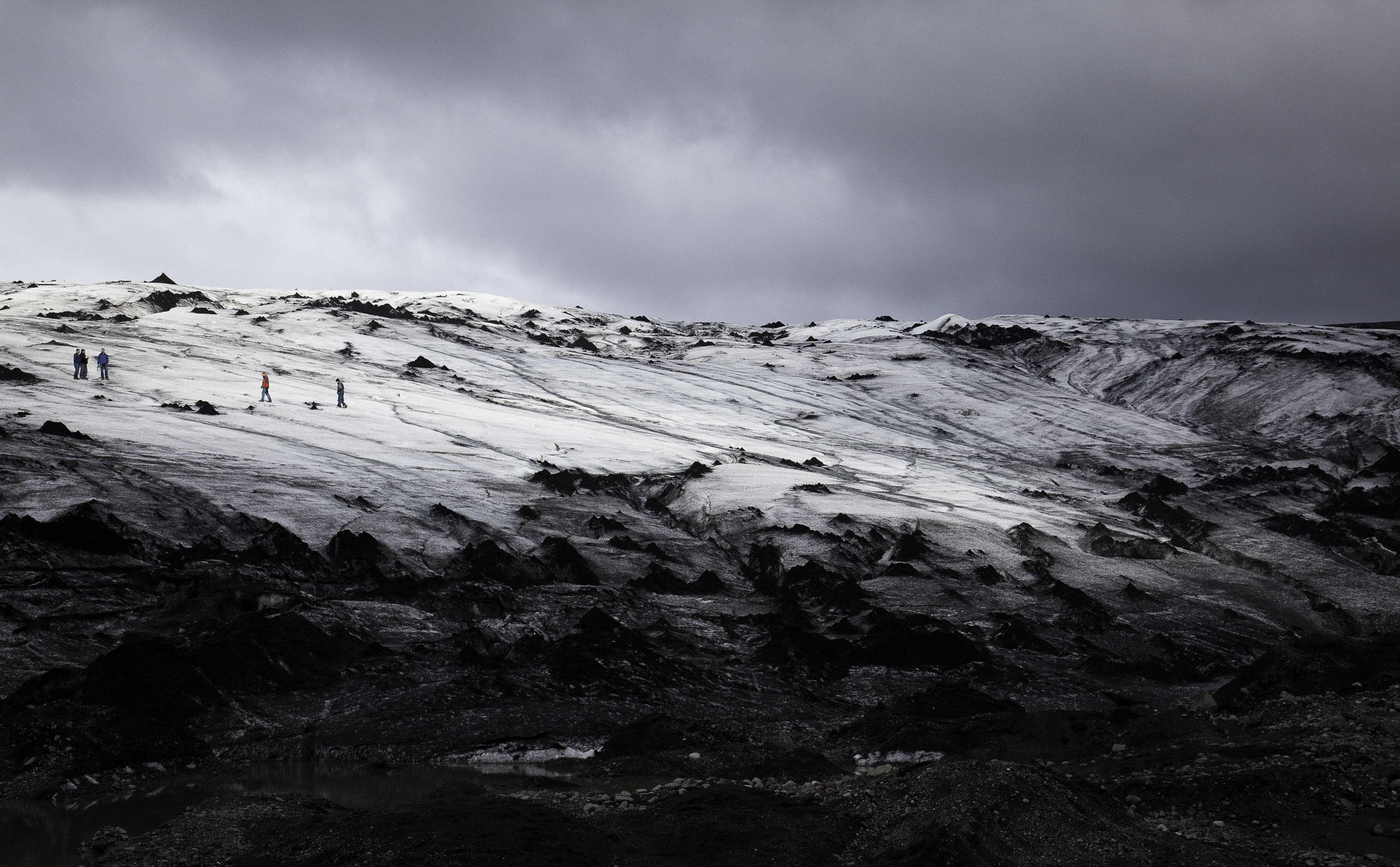 Photo Details
| | |
| --- | --- |
| Title: | Hikers on Sólheimajökull, Iceland |
| Taken: | 23 May, 2009 |
| Camera: | Canon EOS 5D Mark II |
| Focal length: | 50mm |
| Shutter speed: | 1/640s |
| Aperture: | ƒ/11 |
| ISO: | 500 |
I took this picture over 10 years ago when my wife and I made a trip to Iceland just after the recession had started. Tickets to Iceland were very affordable, so we packed our bags and went on an adventure around the island. It was a spectacular trip, and one I'd love to revisit someday in the future.

Prior to leaving, I purchased a brand new Canon 5D Mark II camera for the occasion (the first full-frame camera I ever owned), and I was intent on taking some great photos of the Icelandic landscape. In retrospect, my photos from this trip were very different than the ones I would take today. A lot of time has passed, and my style has changed and improved along the way. Still, it was a trip of great learning and experimentation, and I'm still proud of several of my photos – even if my photos of Iceland today would be very different than my photos from 2009.
This photo is from the base of the Sólheimajökull glacier. I was amazed at the drama and contrast between the glacier, the black volcanic rock, and the cloudy sky. Through fortunate timing, I was able to include a small group of hikers on the glacier to help convey size scale in an otherwise alien setting. There's also a different kind of scale at play here – "color scale." If you saw this photo alone, you might even be forgiven for thinking it was a black and white. But that one lone hiker in the orange jacket tells you otherwise, conveying just how colorless this world really is.
This photo has alway pleased me. The glacier alone is impossible to comprehend – it could be huge or tiny. It could be in color or black and white. With the hikers you can see it for what it really is, both comprehendible and starkly foreign.