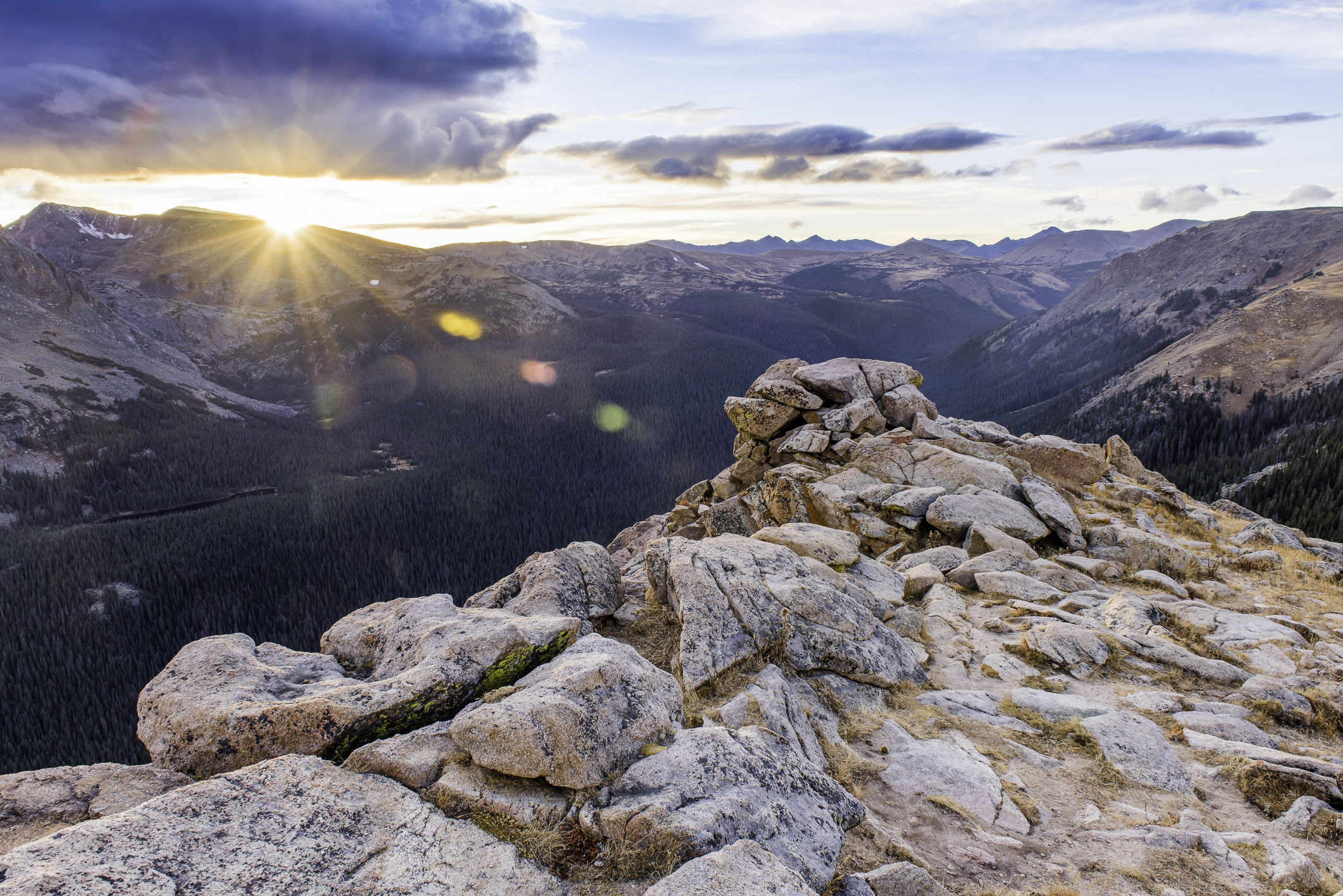 When I lived in Colorado, I loved driving from Denver to the Rocky Mountain National Park to hike and take photos. One of my favorite spots was the Forest Canyon Overlook, which I featured in another photo I shared a while back. This overlook from the top of the spectacular Trail Ridge Road offers unparalleled views of the surrounding mountains, valleys, and tundra, making it a must see location for any landscape photographer.

I took this photo in October, 2015, and the weather that day was not ideal in the mountains. But the weather forecast called for some clearing around sunset, so I took a chance and drove up to the park. As the weather cleared, I took several photos and eventually published two of them. This one is the second in the series, and captures the sun right as its setting behind the mountains to the west. The retreating rainclouds and the mountain peaks together frame the sunlight, with the forest below.
The Park Service always closes this portion of the park after the first snowfall of the season, which came just a few days after I took this photo. Once closed, this part of the park is more or less inaccessible until spring, unless you're willing to do a long snowshoe up the mountain. That made the sunset in this photo a wonderful benediction for two things – the day itself and the last weekend of the year for a gorgeous location before a long cold winter ahead.
On a closing note, some of this land was destroyed in the recent East Troublesome Fire that has so far burned nearly 194 thousands acres around Colorado – including large parts of Rocky Mountain National Park. Change in nature is inevitable, but I'm hoping that nature will renew itself so others can enjoy this incredible location in the future.