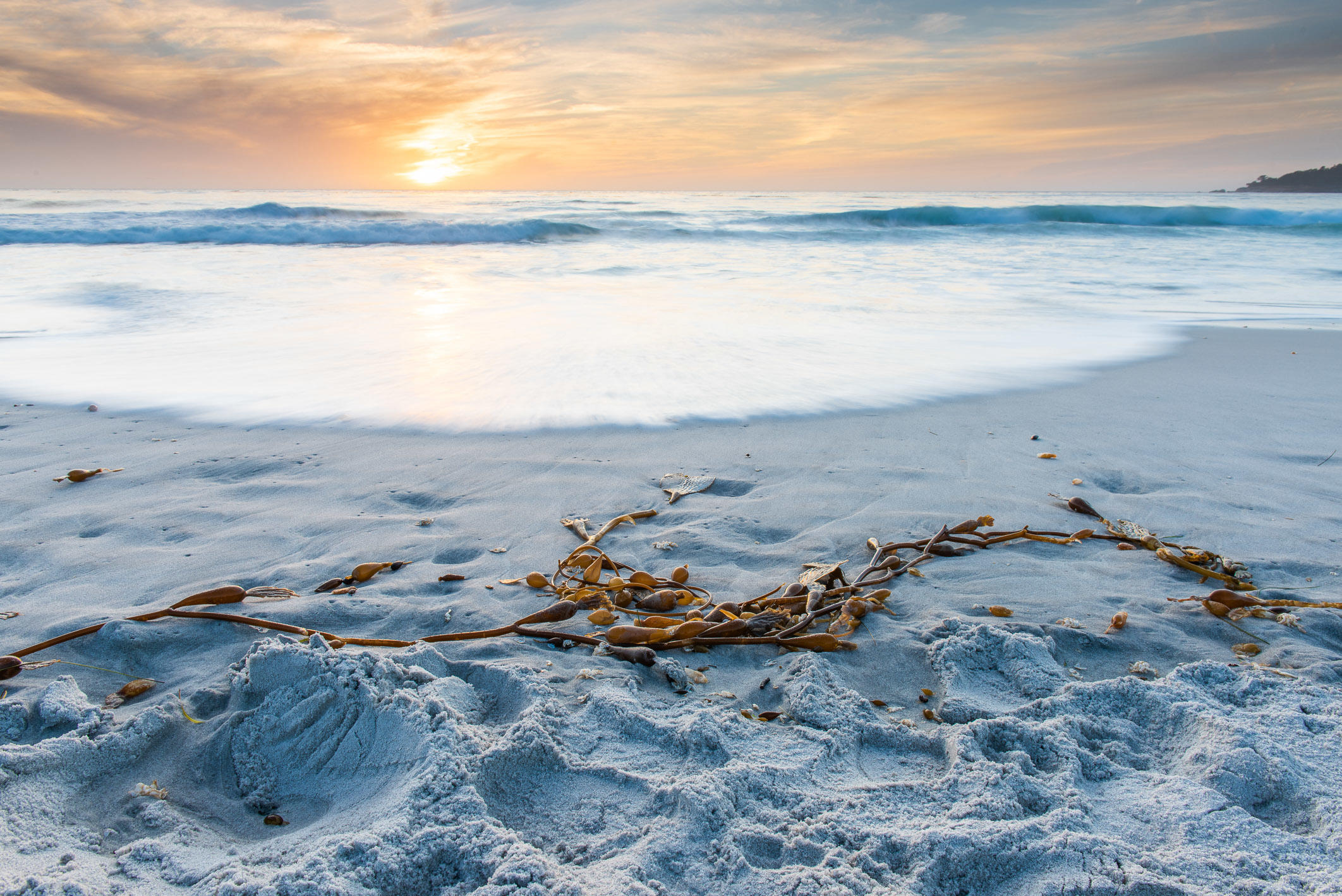 I have so many fond memories of watching sunsets on the west coast, and I always try to catch them whenever I can. There's something magical about seeing the sun drop down and then disappear below a wall of waves – giving a final valedictory glow to the continent before darkness. When I visited Carmel-by-the-Sea last month, I knew I wanted to catch that same experience with a photo from the beach.
The photo set up was straightforward: find a good foreground and point the camera at the ocean and the sunset. The execution was a bit more challenging. I chose kelp on the beach for the foreground, and my initial photos had it stretching across the frame in a wonderful arc balanced against a nice sunset (using a 3-stop hard ND filter let me block the sun and shoot a balanced exposure). I took several exposures capturing the waves in motion before stopping to take a look at my shots, which was when I realized I had a problem: footprints.
Beach goers had left a few in the sand further in front of me, and I had totally missed them when I set up my camera. Fortunately the tide was coming in, so after a few minutes the waves washed them away. Unfortunately, the waves also washed my kelp out of place at the same time. So I stretched it back out, only to realize that now I was the one leaving footprints. The waves soon fixed the issue again, but this cycle repeated itself several times. Somewhere in all of these repetitions of waves, footprints, and photos, I was able to capture this exposure with a perfect arc of seaweed and waves in front of a beautiful golden sunset. And there's not a footprint in sight!
The lesson is that details always matter. Had I noticed the footprints before taking the first photo, I might have been able to to clear them or find a different spot. Fortunately I caught them on my screen, which let me stick around and get the right shot.
On a side note, I also got two other shots from this location as the sun set, and I look forward to sharing them in the future.