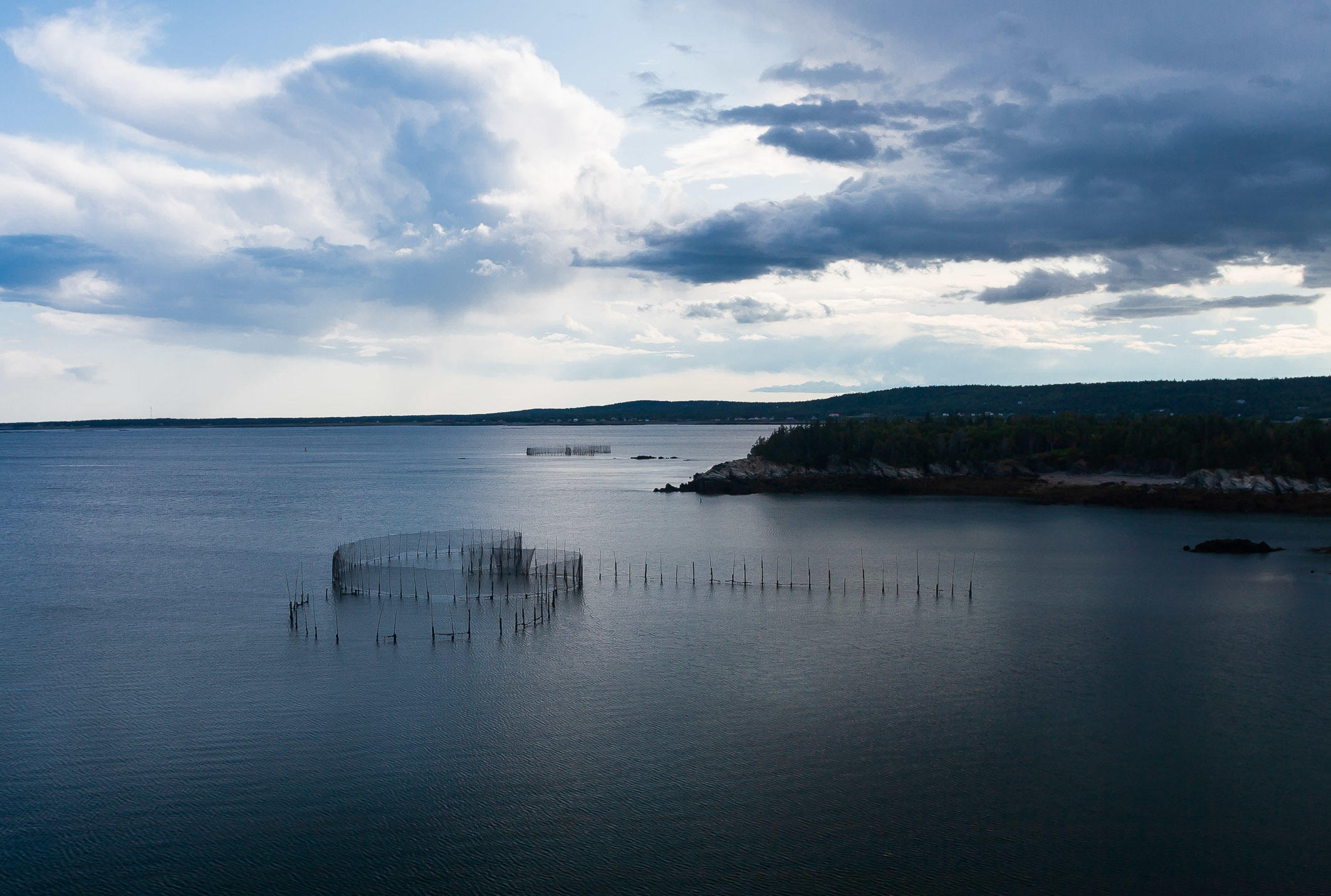 Photo Details
| | |
| --- | --- |
| Title: | Fishing Weir, Grand Manan Island, Canada |
| Taken: | 31 August, 2008 |
| Camera: | Canon EOS 30D |
| Focal length: | 17mm |
| Shutter speed: | 1/100s |
| Aperture: | ƒ/8 |
| ISO: | 100 |
Here's an old one from all the way back in August, 2008. Gwen and I took a trip to New Brunswick, Canada to see the Bay of Fundy and camp on Grand Manan Island. The island itself is a sort of geographic oddity – it's part of Canada but situated closer to the coast of Maine than New Brunswick. The island itself feels remote – it takes a lengthy ferry ride to visit, and there are not a lot of people once you get there. On the other hand, the beauty of the sea crashing against the island cliffs makes the experience entirely worthwhile.
Shortly after arriving we drove to see the lighthouse on the island. The weather had been unsettled the entire trip, but standing next to the lighthouse on a cliff overlooking the harbor provided an incredible view of both the island and the Bay of Fundy. I was especially taken by these fishing weirs situated in the water, and paused to take several photos of them from up high with such a unique vantage point. I'm not sure how they work exactly, but the locals somehow use them to catch fish as the massive tides come and go.
My photos have changed and improved a lot since I took this over a decade ago, but I still like this photo. I framed the scene with the horizon in the middle, breaking one of those photography "rules" that say to keep the horizon on a third. But in this case, I recall intentionally making the choice to use this framing when I was cropping the photo to better emphasize the similarity of the clouds and the fishing weir, highlighting how they're almost reflections of one another. I didn't know it at the time, but ground / sky reflections are one of the standard exceptions to the horizon "rule."
I did freshen up this photo before reposting it here. I updated Lightroom's internal process model and chose a new color profile (Adobe Landscape), replacing ACR 3.4. This brought out a lot more blue in the sky, which I think was missing. I also boosted the shadows a bit because the new process made the foreground feel slightly underexposed. I have otherwise resisted the temptation to completely reedit the photo, and I think it still tells a great story about a remote and beautiful place.