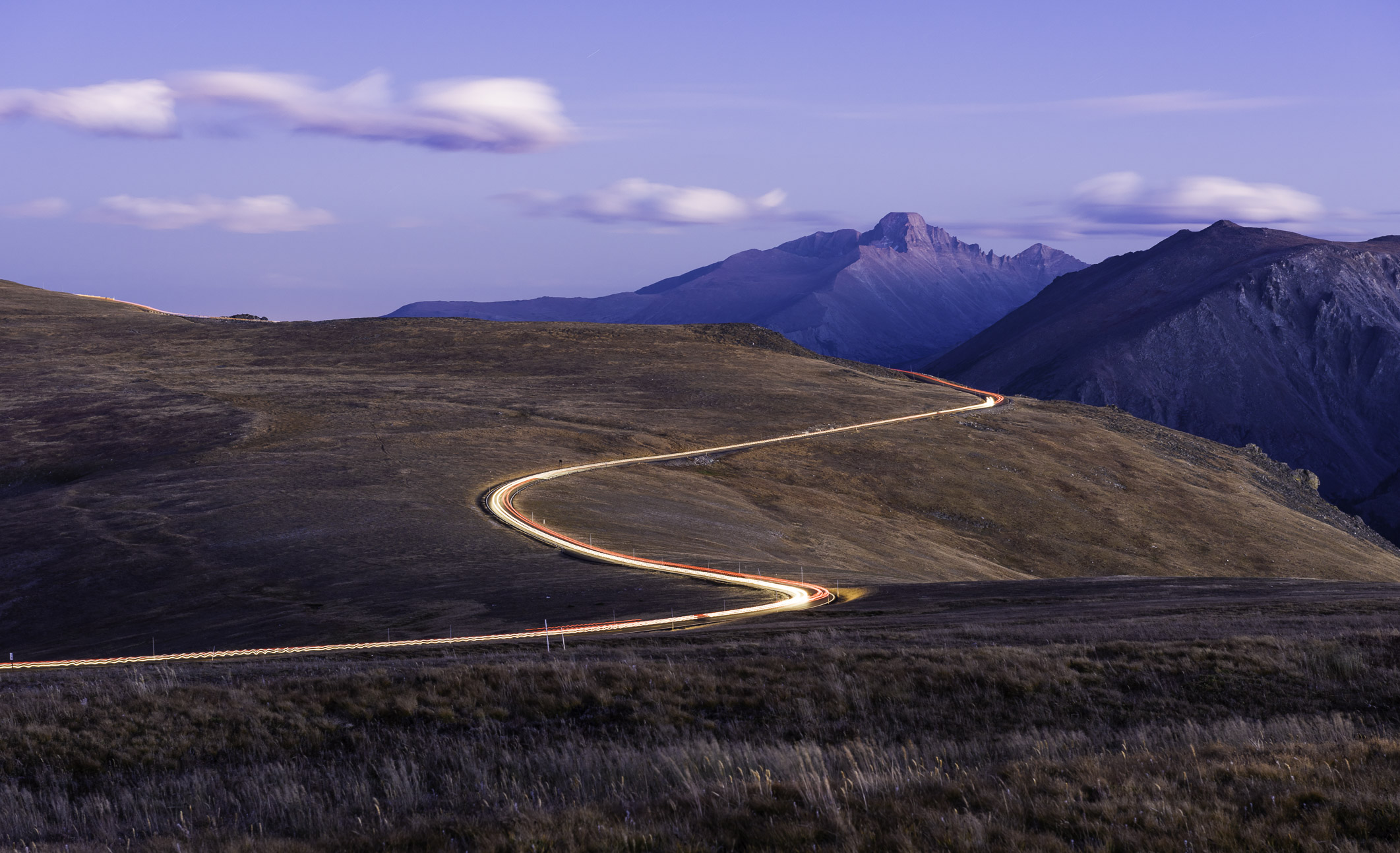 Photo Details
| | |
| --- | --- |
| Title: | Trail Ridge Road, Rocky Mountain National Park, Colorado |
| Caption: | The Trail Ridge Road is the highest continuous paved road in the United States at an elevelation of over 12,100 feet (3,700 meters). Here's the road after dusk with Long's Peak in the background. |
| Taken: | 19 September, 2015 |
| Location: | |
| Camera: | NIKON D810 |
| Focal length: | 70mm |
| Shutter speed: | 88s |
| Aperture: | ƒ/8 |
| ISO: | 64 |
When we lived in the Denver area, I absolutely loved visiting the Rocky Mountain National Park whenever I could. It was about 1.5 hours away, and had some of the most spectacular scenery in the United States. On one visit in 2015, I wanted to find some scenery from the Trail Ridge Road up high in the tundra, but I struggled to find a good spot. On a hunch, I parked at the Lava Cliffs Overlook and walked up the hill across the road where I found this amazing view of the Trail Ridge Road zigzagging down the mountain with Longs Peak in the background.
I took several photos from this spot, and eventually decided I wanted to include car lights in the photo to give definition to the otherwise dark road. This helped make the s-curve stand out and gave the foreground weight against the stunning mountain backdrop. The photo ended up as a long exposure in an otherwise dark blue hour, which also contributed to some overhead cloud movement.
One somewhat funny story (in hindsight) from this evening: I had just set my camera and tripod on the top edge of a sandy hill and let go for a moment, when my tripod fell over and went rolling down the hill about 10 feet. The sand had given way under the tripod foot, and it just tipped over without me realizing. Fortunately nothing was broken or even remotely damaged, and my only chore was spending an hour at home carefully blowing away grains of sand from around the joints and seams on the camera and the lens. Nikons are tough.