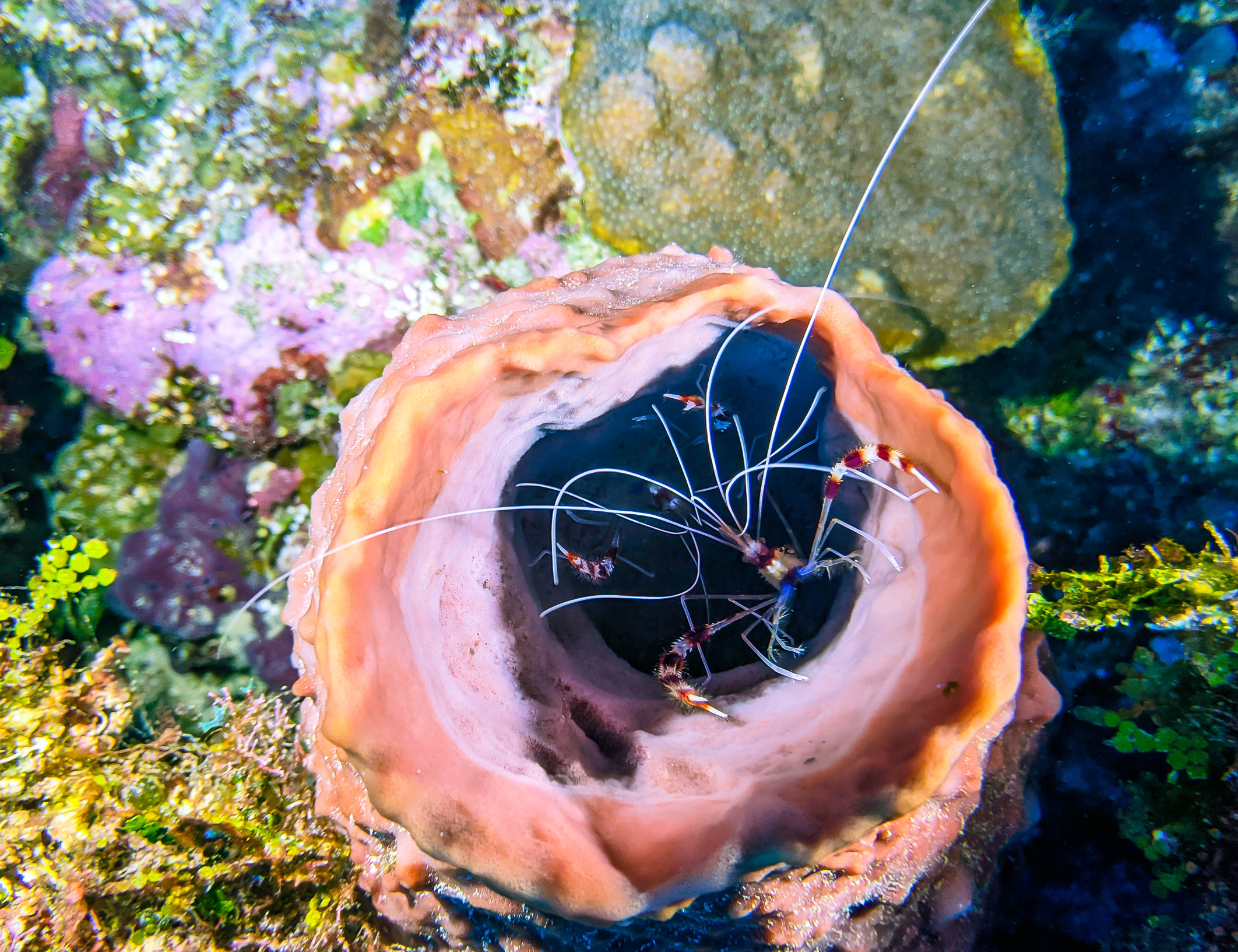 Photo Details
| | |
| --- | --- |
| Title: | Banded Shrimp, Turneffe Atoll, Belize |
| Taken: | 22 November, 2021 |
| Camera: | Pixel 3 |
| Focal length: | 4.44mm |
| Shutter speed: | 1/290s |
| Aperture: | ƒ/1.8 |
| ISO: | 52 |
I've mentioned in some of my posts that I love scuba diving, but I haven't shared all that much of my underwater photos or videos (although you should check out my seal video). Truth be told, underwater photography is truly hard and my results are a little hit and miss. I'm not even sure I actually like doing underwater photos, although I love it when I get good results. I plan to write more about my scuba photos in the future, but today let's take a took at these banded shrimp (stenopus hispidus) living inside a sponge on Belize's magnificent Turneffe Atoll.
Turneffe is an ecological paradise with amazing dive sites, gorgeous reefs, and healthy coral. I took this photo on a site called Crab Walk, which didn't have many crabs but did have some other surprises. Midway through the dive, I saw this beautiful barrel sponge sticking up from the reef below. These sponges are usually empty, but occasionally you'll find something living inside. I decided to take a look and found these banded shrimp hanging out together. There was a slight current, and I was already moving through the water with a group, so I managed to take a few photos fast before our dive group moved on.
In terms of equipment, I'm using a much different setup than I use for my landscape photography on the surface. Dive equipment is expensive, even compared to surface gear, so I'm using cheaper stuff as I build my skills. For this photo, I used a Pixel 3 phone inside of a special dive housing, along with a couple of video lights. This doesn't work great, but it lets me bring some of my underwater experiences back to the surface. More to come.